History
MMAB – always on the go!
---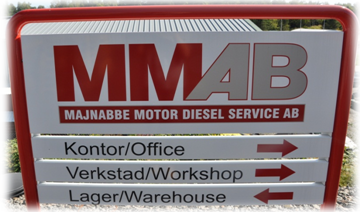 Market Mind!
In an ever evolving market environment, standing still means going backwards! At MMAB (Majnabbe Motor Diesel Service AB) we are constantly challenging and questioning our way of working and our stocking philosophy. As the demand from the market is changing – so are we adapting to new ways of working in order to meet customer requirements. Our focus is still: OEM equivalent spare parts for medium speed engines. Sourced from the best makers in the world, stored in our own warehouse and in shortest possible time shipped to customers all around the globe.
The parts we offer come exclusively from leading and acknowledged manufacturers in Europe and US. For us; Trust and Reliability are key words in our relations with customers and suppliers. A customer can always rely on MMAB to deliver top of the line quality spare parts.
Quality!
MMAB´s perception of the concept Quality: The ongoing process of building and sustaining relationships by assessing, anticipating, and fulfilling stated and implied needs from a diversified customer stratum. Our continuous improvement process aims at highest quality in actual spare parts as well as in "soft processes" e.g. response time, delivery time and attitude. We would be delighted to demonstrate our abilities to you – Just give us the chance!
In our certified modern and well equipped workshop we are performing all kinds of work related to service, overhaul or repair of engines and engine parts. The cleaning cell with closed media circuits combines effective cleaning with stringent environmental demands.
Flexibility!
Each and every one of our 792 registered customers is unique. Each has their own specific prerequisites and requirements – and each can have their own solution in terms of MMAB support and handling. The will to meet and fulfil our customer´s requirements is our hallmark.
Partners!
MMAB is proud to announce that our long lasting cooperation with Robert Bosch AG has resulted in MMAB now being official representative and distributor for Large Engine injection equipment. Mann + Hummel is another recent partner and since many years we are official workshop and representative for Gali air starter motors. Our latest partner is RIGSAVER! An AMOT company specialised in emergency equipment for Gas and Diesel engines in offshore and mining.